m13. Hjelpemidler til målinger (Messmittel) (RF probes)
---
Meßmittel. Hjelpemidler til målinger.
Impedanstrafo til å måle MF selektivitet
Impedans tilpassningstrafo for å måle selektivet ved å ta ut MF-signal fra mottakere. Akkurat denne dekker 200-1000kHz, men er brukbar lenger ned, testet ned til 100kHz. Har ikke testet høyere og vil forvente at en bruker andre kjerner over 1MHz. Med 10k belastning måler en ca 60 ohm på lavimpedanset inngang. Har brukt en Siemens toroid kjerne type B64200-J8046-X830, N30 material, OD=25mm, ID= 15mm. Denne kan selvsagt også brukes til å tilkople signalgenerator på varm side av spoler, men i alle fall vil den ødelegge selektiviteten for akkurat den kretsen man tilkopler på.

Komponentene er montert på en isolerende plate, helst av bakelitt og plassert i en plastboks, ytre mål ca 75x56x25mm. Tror de kommer fra NRHF. Mener det er viktig at coaxkabelen ikke jordes i utstyret det skal måles på, men man bør ta tiltak for å unngå stråling på trinn som kan gi feilmålinger.
---
| | |
| --- | --- |
| | |
#12.11. It is important to have available an RF pick-up tool as shown for RF level meters and frequency counters, it will work over the frequency range 10-500MHz, and may also be used to inject signal from a generator to RF coils when the receiver seem death.
Above 1000MHz with strip-line this is not effective, the coupler should be plane as shown in the second figure, but it is important to remember insulation for the pick-up wire.
---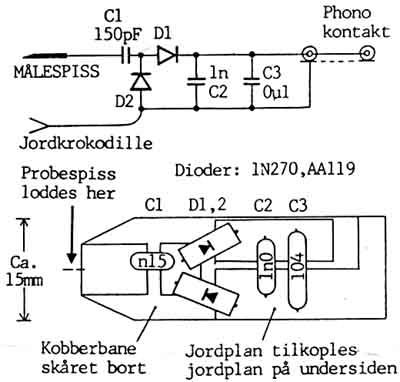 RF probe for RF mV-meter. Ground on two-sided PCB laminate component side is connected to the screen side below.
The board patterns is fabricated using hacksaw. The construction is so self evident that I believe you don't need to have the words translated, it was only a point in the first amateur radio magazine it was presented, and as such not shown in DUBUS.
jordplan=groundplane, probespiss loddes her =probe tip soldered here, jordkrokodille = crocodile clip to ground




The homebrew RF probe. It is often an advantage that the probe tip can be soldered on to the point where it is measuring!

---


Homebrew transitions for German Pegelmessers
---

---
2004.10.08